Join us for our first Tournament!
<![if !IE]><![endif]>
Volunteer to Help
If you can lend a hand at our tournament this December, please sign up for a time slot: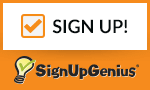 About Us
The Hammerheads sled hockey team consists of kids ranging in age 5-18 and come with all ranges of physical disabilities. Sled hockey provides our kids with an outlet to be competitive, become a team player, and make new friends. We cater to all levels of play and all necessary equipment is provided by the team. We encourage all who are looking for a great sport for their child to come out and see what sled hockey is all about.
News from our Facebook Page